Profile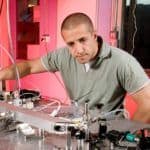 Ali Hussain
Curriculum Vitae
Education

Before school I was speaking Arabic and when I went to school in the US, I started learning to speak, read, write in English (strangely I still have the accent). After 2 years of school, we moved to Qatar and I now I had to learn to read and write in Arabic since I can already speak it. After 5 school years in Qatar, we moved to Sweden. This time I had to learn to read, write, and speak Swedish. I switched back to English when I started my IB.

The science subjects and maths stayed the same and I understood them even in a different language. I became fast at understanding equations, diagrams, and graphs.

Qualifications

I.B. International Baccalaureate Bilingual Diploma.
MPhys in Physics with Laser Science.
PhD in Ultrafast Physics.

Work History

My first job was delivering newspapers in Sweden and it was hard waking up at 3 am.

During my undergraduate degree, I had various part time jobs, from packer in a factory to working in a bakery. I did some long shifts and it was not easy but it was worth it.

For my summer placement in my third year, I worked with the Open University on a new project to develop radioactive carbon dust sensors that would work inside a nuclear reactor. I presented my results to UKAEA (atomic energy authority) and they liked the idea.

During my PhD I worked as a resident tutor for undergraduates and I also started working as a part time firefighter because I lived near my station. This was really fun and I liked helping the community. I also worked in IT support for some time and I struggled to avoid going into physics when answering questions about computer hardware.

I have then worked as a project scientist for space and scientific imaging sensors. You will be surprised to know how strict the space agencies are for testing. We can't afford to have anything fail in space.

Current Job

Optical Instrumentation Physicist and Firefighter

Employer

RAL Space: Science and Technology Facilities Council (STFC).

Also

Station 21:  Oxfordshire Fire and Rescue Service
About Me:

Experimental physicist by day and firefighter by night

Read more

Hello Everyone!

My name is Ali and I work as a full time experimental physicist during working hours and in most evenings and some weekends I work as an on-call firefighter at my local fire station. For me, each job has its own excitement.

I live in Oxford with my wife and we are about to have a baby soon. This brings extra excitement to my life.

In my free time, I am into sports. I prefer playing sports rather than watching them. I play basketball (nicknamed "hang-time"), cycle to work 1-2 times a week (its 15miles each way) and also ride trials, then gym, swim, and run when I can. I have completed a half ironman in 2016 (that was special…).

I like comedy and action movies or ones based on true stories. I still like to watch cartoons (Simpsons and Family Guy).

My Work

I design and build new instruments that use light beyond what our eyes can see

Read more

I work on turning ideas into a reality. This is not always easy and every day I am faced with problems and I try to find solutions or ways around them.

I develop new instruments that use light to give you the information you need.

http://www.esa.int/Our_Activities/Space_Engineering_Technology/TTP2/Honey_are_you_for_real

In one project I developed a small device that measures the amount of organic carbon (stuff that makes the water yellow) in fresh water resources. This is because more UV light is absorbed in water with higher organic carbon concentrations.

In another project I used an instrument in the Amazonia (Brazil) to measure plant leaf reflectance for biodiversity. The heat and humidity effected our results and now I am designing a new device that would be less effected by heat and humidity (I can't do anything about the insects).

My Typical Day:

Not typical because almost every day is varied

Read more

It is hard to give a typical day because what I do is varied and some days contain a mixture.

Sometimes I plot and analyse data, and if it's repetitive, music can help.

Other times I am designing and/or building the experiments. If it's really hard, I reward myself with a kitkat chunky bar once I am done.

Sometimes I can be online studying parts and buying ones that would fit in my experiment.

There are days that I attend meetings and courses and share with work friends about the challenges we are facing and someone can have an idea that works (crazy ideas are the funniest).

Sometimes I am in the field and taking measurements, this is really fun because you never know what to expect.

What I'd do with the prize money:

Buy science kits for schools that can't afford them

Read more

If only science kits existed when I was a kid………a lot of toys would've been saved.

As a kid, my parents did find it strange that after I got tired of playing with my toys, I would start to take them apart and see what's inside and how it works and if I can do anything different. Not all toys were put back together correctly but I got better at it.

When I discovered LEGO, I didn't want anything else but it was also limited.

I wish I had some science kits then. I would have learned a lot more.

With the prize money, I would like it to be used to buy build-your-own science kits for schools that can't afford them so everyone can learn more science.

But they don't have to be physics…..
My Interview

How would you describe yourself in 3 words?

Creative, funny, adventurous

What or who inspired you to follow your career?

I grew up in 3 different continents, only the science and maths subjects were easier to transfer. I liked how physics explained how things work and told me a story

What was your favourite subject at school?

Physics and Maths

What did you want to be after you left school?

Aeronautical engineer

Were you ever in trouble at school?

Rarely, I was good at keeping a low profile :)

If you weren't doing this job, what would you choose instead?

Environmental scientist

Who is your favourite singer or band?

Hard to say, I like most types of music, but Andrea Bocelli is at the top next to Tupac Shakur :)

What's your favourite food?

Depends on my mood, now it's İskender or Chicken Cesar Salad

What is the most fun thing you've done?

Driving the fire truck at high speeds on blues

If you had 3 wishes for yourself what would they be? - be honest!

Fly on Concorde or a zero g flight. Courtside seats for the NBA finals. Unlimited access and use to all lab facilities in the world.

Tell us a joke.

Where does bad light go? A prism :)
My profile link:
https://ias.im/u.220005
---
---