Profile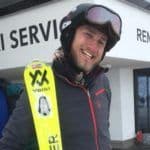 Declan Jonckers
Curriculum Vitae
Education

I studied a Masters sandwich course at the University of Bath. This means you spend 2 years studying then 1 year working then 2 more years studying, and graduate with a masters degree.

Qualifications

Masters in Mechanical Engineering (MEng), A-Levels, GCSEs

Work History

Whilst at university, I worked as a sailing instructor during the summer. I've also worked at Airbus Defence and Space in the Netherlands

Current Job

Multi-Layer Insulation Engineer at RAL Space (STFC)

Employer

RAL Space is a department of the Science and Technology Facilities Council (STFC).

The Science and Technology Facilities Council is a UK government body that carries out civil research in science and engineering, and funds UK research in areas including particle physics, nuclear physics, space science and astronomy.
About Me:

I'm an engineer who is pretty space obsessed! I cycle/ski/hike for fun!

Read more

I recently(ish) graduated as an engineer from university. I've always been super interested in Space, and started my first proper job working in the Space Industry last August.

I'm living in Oxford at the moment, which nice and flat – very good for cycling. Apart from cycling, I love going on holiday to the mountains for skiing and hiking, though sometimes I feel like I need another holiday to recover afterwards!

After graduating from university, but before starting my job, I spent a month working sailing yachts in Greece (super fun, but very very hot); and three months working in a ski resort in Austria (very very cold).

My Work

My job is to make sure that spacecraft don't get too hot or too cold. We do this by wrapping them in space blankets.

Read more

I work at RAL Space, which is part of the Science and Technology Facilities Council. My job is to organise the design and manufacture of Multi-Layer Insulation (often called MLI). Multi-Layer Insulation is a kind of 'space blanket' which helps to keep a spacecraft's temperature at the right level (not too hot and not too cold). The shiny yellow bits on the spacecraft below are MLI.

Here's how it works:

There's three kinds of ways heat can be moved from one place to another. These are conduction, convection and radiation.

Conduction is where heat moves through a solid object. If you touch a hot stove, it's conduction that causes your hand to burn!

Convection is how heat moves through a liquid or a gas. Imagine you and your friend are standing in a pool. If your friend pees in the pool, you'll soon know about it! That's because the heat has been carried by convection to where you're standing.

The last one is radiation. This sounds scary, but radiation is just light. This is how the sun warms up the earth, it emits light waves, which travel across space and are absorbed by the earth.

This picture shows a summary of the different kinds of heat transfer:

Space is a vacuum, which means that there's no air (or anything else) touching a spacecraft when it's in orbit. This means that conduction and convection aren't very important, all the heat transfer is done by radiation. On earth, if you stand in the sun, you'll get warmed up, but you'll also lose lots of heat to the air around you, or through your feet to the ground. This stops you overheating and melting!

If we just left a spacecraft with no insulation, the sun would heat it up, but it wouldn't be able to get rid of its heat, so it would get hotter and hotter until it broke! (probably by exploding or melting). So, we have to stop sunlight hitting the spacecraft. It turns out that the easiest way to do this is with a mirror. The mirrors we use will reflect about 97% of the light. This sounds pretty good, but sunlight is very strong! So we have a series of very thin mirrors, each one reflecting the little bit of light that gets through. Sometimes we have 20 layers of mirrors! This is where the 'Multi-Layer' bit of the name comes from.

In between the mirror layers, we put layers of thin netting. This stops the mirrors from touching each other, and transferring heat by conduction. We want radiation only! You can see a bunch of different layers in the photo of MLI below:

I hope my explanation wasn't too long! Here's a cool picture of spacecraft which landed on Titan with MLI on as a reward:

My Typical Day:

Lots of meetings! I also spend a lot of time in the cleanroom (special lab where spacecraft are built) either testing or fixing things when they break!

Read more

I work for RAL Space in Harwell, the building I work in is pretty cool, it looks like this:

I work in an office, but we have lots of cleanrooms which are special labs which are (you guessed it) very clean. To keep them clean, you have to wear special outfits to prevent icky stuff from your body (dead skin, hair etc.) contaminating the spacecraft. The person in the picture below is wearing one.

In the building there's also two massive vacuum chambers which are used to test spacecraft components.

Spacecraft are generally really expensive and complicated machines. What this means is that lots of people, and often lots of companies/organisations are involved in building one. We have to make sure that all our parts fit together, so there's lots of communication involved. Normally, we send each other emails, but every now and then we have big meetings which can involve up to 20 people!

Apart from that, one of the big problems with spacecraft is that once it's launched, you can't go up and fix it if something goes wrong! This means if we have to do something we haven't done before, like use a new material, or a new manufacturing method, we have to test it to make sure it will work! So I perform tests and write test reports (sadly writing the report often takes longer than the test)

What I'd do with the prize money:

I'd use it to help fund an engineering project I'm running this summer with work experience students.

Read more

With another graduate at work, I'm running a project called Engineering Experience Week. As part of this, 6 year 12 students will come to RAL Space for a week and work on an engineering project. Our project is to program a prototype mars rover that we built.

We spent our budget for the project building the mars rover, so I'd use this money to make the project more elaborate. Probably by buying some sand and rocks to simulate the martian environment. Oy by adding a robot arm to the rover!

If there's money left over, or it comes too late (Engineering Experience Week is in July). I'd like to create a kit I could take to schools showing how MLI works. My idea is to have a vacuum jar, with two ice cubes in. One ice cube would be covered in MLI, and one would be bare. I'd heat them up with a heat lamp, and hopefull show that the bare one would melt first!
My Interview

How would you describe yourself in 3 words?

Spacey, Sporty, Decisive

What or who inspired you to follow your career?

When I was young, my parents bought me a book about robots. As part of the book, there was a kit to built a cardboard model of Sojourner (the first Mars rover). After this, I was obsessed with space!

What was your favourite subject at school?

Design and Technology! I like using my hands to build things, and use big tools. When I was at school, I built a dog kennel, a garden table and a bench.

What did you want to be after you left school?

I wanted to work in space robotics. I'm halfway there!

Were you ever in trouble at school?

When I started secondary school, I told myself I would never get a detention. This didn't last long! I did some stupid things at school which seemed funny at the time, but I learned from my mistakes!

If you weren't doing this job, what would you choose instead?

Also quite sciency, but I'd like to be working in the green energy field. Maybe designing wind turbines, or solar panels.

Who is your favourite singer or band?

My favourite band changes every week! In the past I used to be a really big fan of heavy metal and punk rock. I listen to that less now (mainly because my girlfriend hates it). At the minute I quite like the Amazons.

What's your favourite food?

Wraps! Fajitas, burritos, enchiladas. They are all delicious. Prefarably with stupid amounts of cheese

What is the most fun thing you've done?

Sailing around Corfu in a yacht after I graduated from university

If you had 3 wishes for yourself what would they be? - be honest!

1) For an electric car - I feel guilty every time I fill up. I'm saving up, but electric cars are expensive! 2) To be able to speak every language in the world. In the last few years I've started really wishing I paid more attention in French. 3) To have a massive back garden. I live in a flat at the moment, and I miss having my own outdoor space :(

Tell us a joke.

Why don't cannibals eat clowns? They taste funny.
My profile link:
https://ias.im/u.220006
---
---