Profile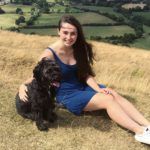 Emma Davies
Curriculum Vitae
Education

I went to school at the Chase Technology College in Malvern where I did both my GCSEs and A-Levels. I then went on to study Physics at Imperial College London for 4 years where I got a MSci degree, and returned a year later to start my PhD in Space Physics.

Qualifications

MSci Physics, A-Levels (Maths, Further Maths, Physics, Chemistry and Geography), GCSEs.

Work History

I worked at the European Space Agency in Germany as a Young Graduate Trainee for a year after I finished my Physics degree. But my first 'proper' job was working as a waitress in a pub as I did my A-Levels.

Current Job

PhD student at Imperial College London.
About Me:

A space, football, dog and plant obsessive!

Read more

I live in London with my boyfriend and two housemates, where I've managed to completely cover our balcony in plants – tomatoes, beans, courgettes, sunflowers, marigolds – the lot! When I'm not working I'm playing football, either with the space research group at Imperial College, or the University football team itself (we recently got promoted for the second year in a row!). I really miss my dog, Dexter, who lives with my parents in the countryside but my next-door neighbours have a cheeky cat who tries to come into our house so I've become friends with her in the meantime.

My Work

Studying huge explosions produced by the Sun.

Read more

Huge explosions from the Sun are known as Coronal Mass Ejections, or CMEs for short. They travel through space, sometimes towards Earth, and when they hit us they often cause the aurora (Northern Lights)! Being so strong, they're also a problem for satellites and astronauts, and even power stations on the ground! I study how they travel so we are better prepared for when they strike!

I've also spent a year working at the European Space Agency where I had too much fun!:

My Typical Day:

Mostly spent at a computer looking at spacecraft data to find these explosions!

Read more

This is a video of two of the explosions (CMEs) I've found: 111022_c2. They happened on the 22nd October 2011 and the second is huge! The whole Sun is hidden behind the white circle drawn in the middle of the video!

What I'd do with the prize money:

I'd like to take a class to the Science Museum in London. It has a fantastic space exhibit for which I think I could be a very good tour guide!

Read more

I'd like to take a class to the Science Museum in London. It has a fantastic space exhibit for which I think I could be a very good tour guide!
My Interview

What or who inspired you to follow your career?

When I was little, my younger brother was bought a book on space and I was the one who read it!

What was your favourite subject at school?

I loved PE, apart from the Spring term when I had to play netball and the boys got to play football because I was so jealous of them... But I also really enjoyed Maths, and I was really lucky to have brilliant Physics teachers. I like any subject with a correct answer.

What did you want to be after you left school?

A space scientist!

Were you ever in trouble at school?

Not really, I was quite quiet on the whole. The only detention I ever had was a class detention - the whole class was called back in Design and Technology because someone had stolen a special pencil, and we were held until someone gave it up. It wasn't me I promise!

If you weren't doing this job, what would you choose instead?

I'd probably be a gardener. I grew up working and playing on my grandma's farm, and I absolutely love the outdoors and growing my own plants from seeds.

Who is your favourite singer or band?

Blur will always be my favourites - famous for the AAAAALL THE PEOPLE, SO MANY PEOPLE song. And the British Gas advert...

What's your favourite food?

You can't beat a good Sunday Roast.

What is the most fun thing you've done?

Swam down part of the Amazon River. It was really sunny and calm, but it was best not to think about all the other creatures swimming in there too!

If you had 3 wishes for yourself what would they be? - be honest!

1. To one day go to space. 2. No more climate change so we save the animals and plants. 3. To play for the England Lionesses!

Tell us a joke.

Why didn't the Sun go to University? Because it already had a million degrees!
My profile link:
https://ias.im/u.220038
---
---