Profile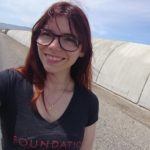 Laurence Datrier
Curriculum Vitae
Education

Brunel University, London |
University of Glasgow

Qualifications

High school: French scientific baccalaureate, specialised in physics and chemistry |
BA Film and TV studies (Brunel) |
BSc Physics and Astronomy (Glasgow) |
MSc by research Physics and Astronomy (Glasgow)

Work History

Intern at Nicolaus Copernicus Astronomical Center in Torun, Poland | A lot of outreach jobs here and there

Current Job

PhD Student at UofG/Fellow at LIGO Hanford

Employer
About Me:

PhD student with too many hobbies, occasional fencer. Currently working in a desert in America! (LIGO Hanford, in Washington state)

Read more

I'm a 29 year old PhD student who's normally living in Glasgow, but currently working at the LIGO Hanford site in the middle of the desert in Washington State, USA. I used to always own cats back when I lived in France with my family, which I really miss!

When I'm not working I love doing outreach, especially when it gives me a chance to use telescopes – I don't do it often enough! I also enjoy fencing (sabre – pretty badly!), weightlifting, knitting, art, video games, board games and RPGs, and making things out of chainmail. I read (especially scifi/fantasy) and binge-watch shows and movies a lot too! I like documentaries and reading about animals – in fact, I love random animal facts, so feel free to share some with me! I love travelling and exploring when I get the chance to, which is pretty often when you work in an international collaboration!
Pronouns she/her.

My Work

Multi-messenger astronomy using gravitational waves and kilonovae (some sort of "explosion") from the collision of two neutron stars.

Read more

GRAVITATIONAL WAVES

Until Einstein came along, we understood gravity as a force – there was some force acting on you, keeping you grounded to the floor. This worked well on human scales, but there were many flaws with this theory, as it did not explain a number of things about gravity: the orbit of Mercury for example, or why gravity seemed instantaneous.

Enter Einstein! Einstein revolutionised our understanding of gravity. Now, we understand that mass distorts the fabric of the universe which we call spacetime. Mass simply follows the curvature of spacetime, just like if you placed a heavy object on a trampoline. In the famous words of Archibald Wheeler, mass tells space-time how to curve, and space-time tells mass how to move.

[NASA]

Now, if mass distorts spacetime, what happens if a violent event happens rather than just mass sitting there? Gravitational waves would be generated, just like ripples on a pond when you throw a rock at it.

These gravitational waves are generated by cataclysmic events – like black holes merging, or supernovae. They can also be generated by mountains on neutron stars!

The aLIGO detectors are gigantic interferometers that detect gravitational waves. When a gravitational wave passes through, it distorts spacetime, stretching and squeezing it. We measure this stretching and squeezing using our interferometers, a device that uses lasers and mirrors.

17th August 2017 was a very big day for astronomers – we detected both gravitational waves ("ripples" in spacetime caused by violent astrophysical events) and electromagnetic waves from the merger of two neutron stars for the first time!

[A. Simmonet]

Before that day, all our detections came from two black holes merging. Neutron stars are very dense stars made mostly out of neutrons – they're what's left of a massive star after it goes supernova, if the star was not massive enough to form a black hole. A typical neutron star's diameter is roughly the size of Glasgow, but with a mass about 1.5x that of the Sun! When two of these objects inspiral and merge together, they generate those spacetime ripples called gravitational waves, which are tiny by the time they reach the Advanced LIGO detectors on Earth! So tiny, that when Einstein predicted their existence in 1915, he thought we'd never detect them. When neutron stars merge, they also produce a number of other interesting phenomena in the electromagnetic spectrum: a short gamma ray burst and a kilonova. Kilonovae are where a lot of heavy elements, such as gold, are formed.

We have strategies in place to look for kilonovae with optical telescopes once we detect a gravitational wave from two neutron stars. I'm working on ways to search for gravitational waves in the LIGO data if we detect a kilonova without a gravitational wave trigger first.

This is just my Glasgow work – at Hanford I work on a number of things related to the detector itself. My main work is on calibration, but I've done a few side projects on control loops and the impact of some environmental factors on the detector.

My Typical Day:

Lots of coding, lots of meetings and lots of tea

Read more

Because I'm currently working in Washington state, in America, my typical day is not so typical, so here's what it looks like in Glasgow and in LIGO Hanford.

When I'm in Glasgow I mostly work in an office in this building (see below) since I'm a data analyst, which means my work involves a lot of coding and reading. I'll sometimes work at home if I need a quieter place and don't have any meetings or courses that day.


I have meetings most days of the week, either to discuss my work with my supervisor, to discuss ideas and problems with my group, or discuss papers we've recently read at journal club. Sometimes I also have courses, which are part of the training for my PhD. I'll usually spend an hour looking at my emails and papers before starting work which involves coding or writing, and sometimes making posters to showcase work I've done at workshops and conferences.

Depending on how work is going that day I might take some tea and coffee breaks which are often accompanied by bizarre but sometimes educational conversations with the other PhD students in my group. During the semester, I also spend a lot of time teaching first year astronomy lab sessions at our university observatory (pictured below, from the inside! The main telescope is in a dome outside) and marking lab books.

While at LIGO Hanford, my day starts with a 30 minute drive from the flat I share with other Fellows to the LIGO observatory, an interferometer with two 4km arms.

I usually spend my mornings reading emails and papers, doing some work on things like papers or presentations, and decide what I'll be doing for the rest of the day (and also having tea). I also sometimes have meetings or phone conferences in the morning, to discuss the work we've done and that we're going to do. Most days I go for a walk along one of the interferometer arms at lunch time – although I've yet to make it to the end of one arm and back, since they're 4km each! It's a great occasion to catch a tumbleweed race too (hey, you gotta keep yourself entertained out here in the desert!)

In the afternoon, I'll usually be doing work on what I've decided to work on that day (and usually have more tea then). I get to go to the optics lab sometimes, but mostly I code.

I have my own desk but will usually work from the control room, because that's where all the fun happens, and the best place to keep an eye on gravitational wave triggers!

What I'd do with the prize money:

New material on gravitational wave and multi-messenger astronomy/cosmology for when we go to schools and science festivals

Read more

Because our field is evolving very rapidly at the moment, some of our material has quickly become a bit outdated, or is lacking some of our more recent findings. We'd like to get some new outreach materials such as banners for when we go to schools, festivals, etc.
My Interview

What was your favourite subject at school?

Whichever one had the best teacher ;) I liked physics and maths a lot, but I was more drawn to languages, art, literature, history and geography.

What did you want to be after you left school?

I've wanted to be a lot of different things while at school, but right after I left high school, I wanted to be a filmmaker and make science documentaries and sci-fi movies! I guess I just dropped the film aspect.

If you weren't doing this job, what would you choose instead?

In an alternate universe, I'm probably a zoologist or a volcanologist. Archaeology would be pretty neat too!

What's your favourite food?

Peanut butter!

What is the most fun thing you've done?

That's a tough one! I'll have to go for that time I swung on a shield-shaped swing in the middle of a thunderstorm in the old Viking settlement of Birka, in Sweden.

If you had 3 wishes for yourself what would they be? - be honest!

1) Good health 2) Stop climate change, because our pale blue dot is by far my favourite planet 3) A secure job!

Tell us a joke.

What did the black hole say to the other black hole when they collided? Nothing, they just waved.
My profile link:
https://ias.im/u.220055
---
---