Profile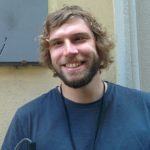 Nicolas Bonne
Curriculum Vitae
Education

I did all of my schooling in Australia, in my hometown of Bendigo.

I went to a Catholic Primary School called St Peters.
My lower secondary school was a state school (government funded) called Eaglehawk High.
My upper secondary school was also a state school, and was called Bendigo Senior Secondary College. My year level had over a thousand students, as many were from Bendigo, but some also came in from surrounding towns.

Qualifications

For my Australian GCSE equivalent I did Science, French, Music (Viola and Percussion), Advanced Mathematics, English and English Literature.

For my A-levels (which we called VCEs) I did Specialist Maths, Maths Methods, English, French, Music and Physics

I did a bachelor of science, majoring in Astronomy and minoring in mathematics/physics at Monash University in my state's capital city of Melbourne. I then did an honours research year in astronomy in Australia's capital, Canberra, at the Australian National University and got a first. I started a PhD but dropped out because I was suffering from depression

After a few years (and a move back to Melbourne) I had another go at a PhD in astronomy back at Monash and this time I finished. This means I have a PhD and can call myself Dr Bonne.

Work History

During my undergraduate degree I had a summer job at my hometown's science centre. I did planetarium shows, helped people work out how to use exhibits and helped to run the centre's 'vertical slide'

When I left my first attempt at a PhD I worked in a DVD/movie store (it was actually a really fun job, as I love movies). I also did some data entry and worked in a warehouse.

During my PhD at Monash I ran first year lab and tutorial classes for astronomy students.

Since moving to the UK, I worked as a researcher for the University of Portsmouth for my first six months, but have spent most of my remaining time as an outreach and public engagement officer.

Current Job

I'm currently an Outreach and Public Engagement Fellow, as well as the Tactile Universe Project Lead, at the University of Portsmouth
About Me:

I'm a blind astronomer, originally from Australia. I've wanted to do my job from the age of 5 and its even more fun than I thought it would be….

Read more

I live in Portsmouth, on the island of Portsea in the South of England with my wife Samantha (who is also an astronomer) and my guide dog Raffles. I moved over here from Australia 4 and a half years ago, and I've loved every moment of my time here. I love to cook, and my favourite food is probably a Thai noodle dish called Pad Thai. In my spare time I like to play the bass guitar and drums. I also build (and then badly paint) miniature sci-fi figurines. I've wanted to be a professional astronomer since I was 5 years old. My pronouns are he/him

My Work

My research area is galaxy evolution. I mostly work on ways to teach people with vision problems about space, without using pictures.

Read more

My research background (the area of astronomy I study) is how galaxies form and change over the lifetime of the Universe. When I moved to the UK I took a job in public engagement and outreach. This means I get to talk to lots of different people about astronomy and the kind of research that goes on at my university.

Most of my work right now involves leading a team who are looking at ways to make astronomy easier to understand for people with vision problems. Our project is called the Tactile Universe. This is a surprisingly fun job, and we always have lots of interesting problems to try and solve. Because astronomy is so visual (we usually rely on lots of amazing pictures to talk about the subject) people whoa re visually impaired can often find it hard to get in to astronomy. There are also very few blind people who become astronomers.

Below I've included an image of me running a workshop with some visually impaired secondary school students. We're talking about galaxies using some special tactile models that my teammates and I produce.

I also spend time helping other people who want to do this type of work learn the best ways to communicate their science or research area to people with a visual impairment.

My Typical Day:

If I'm not answering emails, I'm out and about trying to get everybody else as enthusiastic about astronomy as I am

Read more

Most mornings my guide dog Raffles and I walk about 2.5 km from home to work. It keeps both of us pretty fit. Because I lead a project, I write and answer an insane number of emails most days, and I try to take care of as many of these as I can when I first arrive in the morning. When I'm not dealing with emails, I'm either out at a school talking about astronomy and physics or running a Tactile Universe workshop. Lately I've also been running training workshops to help other science communicators learn how to communicate their ideas to visually impaired people. On a really good day, I get to design, 3D  print and test new tactile models for the Tactile Universe.

What I'd do with the prize money:

Run a Tactile Universe resource and presenter training workshop in Ireland

Read more

This year the Tactile Universe project has run 5 presenter and resource training workshops for teachers, researchers and science communicators in Manchester, Birmingham, London, Edinburgh and Portsmouth. We ran these workshops to help train other people around the UK who want to use our resources with VI students in their particular part of the UK. We've also been making up resource kits for these presenters, which will contain everything they will need to bring the Tactile Universe to their local schools.

Because we only had limited funding and time, there were places that we wanted to get to, but didn't manage to. Ireland was one of these places.

My idea for using the £500 prize money would be to run a sixth workshop in Dublin so that we can train more presenters and help VI students in Ireland get inspired by astronomy and space. The money would cover travel, lunch for trainees and fund the production of a few more kits to help trained presenters get started delivering the project.
My Interview

How would you describe yourself in 3 words?

Determined, innovative, quirky

What or who inspired you to follow your career?

In 1989 when I was 5, I was inspired by the amazing images of Jupiter, Saturn, Uranus and Neptune sent back by the Voyager 1 and Voyager 2 spacecraft.

What was your favourite subject at school?

Science

What did you want to be after you left school?

Be a professional astronomer

Were you ever in trouble at school?

Yes, but not very often. Sometimes I talked before my brain had caught up with my mouth.

If you weren't doing this job, what would you choose instead?

With my wife and a small army of labradors, I'd help run a brewery/restaurant somewhere in the middle of nowhere

Who is your favourite singer or band?

Radiohead

What's your favourite food?

Singapore Noodles

What is the most fun thing you've done?

Gone to a special space camp for visually impaired students at the US Space and Rockets Centre
My profile link:
https://ias.im/u.220007
---
---